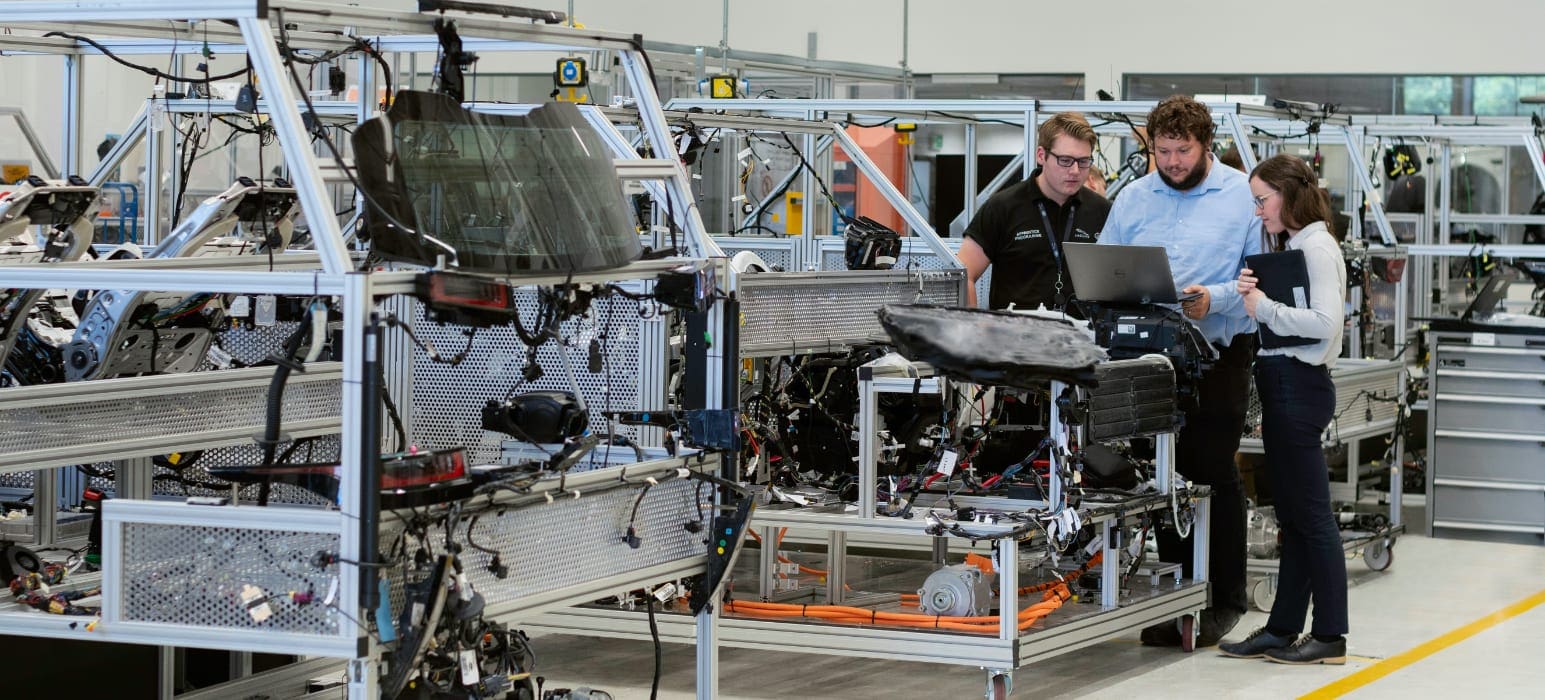 Find more articles
We recently spoke via Teams to a client who's the Managing Director of a market leading manufacturing company based in the North West about the 13 business lessons learned from 2020…
Following on from our HR on the COVID-19 frontline interview, we wanted to talk to somebody in a different sector, get their take on the impact of COVID on their business, and look ahead to 2021.
I think it is fair to say that many manufacturing sectors in the UK have had a tough year…
According to a recent article on Trading Economics; "production in the UK averaged 0.37% from 1969 until 2020, reaching an all time high of 19.6% in February of 1973 and a record low of -29.9% in April of this year".
That said, the UK is currently the ninth largest manufacturing nation in the world.
In their Annual Manufacturing Report 2020, PWC stated that; "UK manufacturing plays an important part of our economy, with the industry making up 11% of GVA, 44% of total UK exports, 70% of business R&D, and directly employing 2.6 million people".
However, they also state that; "during such politically and economically challenging times, transformation is the key to post-2020 recovery".
In such an unpredictable world, the varied challenges and opportunities that exist need to be tackled and exploited by savvy manufacturers who aren't afraid of change!
The 13 business lessons learned:
1. Focus on your people in challenging times
First priorities for our Managing Director friend when the pandemic first hit and the lockdown came, as with many manufacturing companies, was to make their site COVID secure for their team.
Fortunately, they didn't have to shut down… 
Whilst some countries defined a list of 'essential' industries, the UK government didn't actually establish such a list.
However, within all of the countries who did define a list, other companies in their Group were deemed essential so, as a manufacturer of products/materials for their niche sector, they felt it was appropriate to continue in the UK too.
They had to change things to adhere to the guidelines for safe practice, ensure social distancing, clear signage, hand-washing, etc. An extensive risk assessment programme was also conducted to establish the impact and how they could continue to operate safely.
Their Managing Director echoes the sentiments of many clients we've spoken to in recent months:
"The initial impact in those early days was quite sharp. Volumes started to drop rapidly but the furlough scheme was a godsend. However, the primary concern across the business in the early weeks of the lockdown was that combination of some staff working from home, some on furlough. It was a new experience for all and many personnel were feeling isolated."
So, they setup a system for all those that had employees reporting to them to place a call every few days or so to each of their team.
For those on furlough, it was stressed to all management that you don't talk shop, you establish how they're feeling, how their families are, what they're up, etc. 
No work talk, focus on pastoral care and support. 
The MD adds that:
"In the early days of the lockdown it was short-term focus. They were about taking swift and effective reaction to the ever-changing situation."
2. Use the need for change to drive efficiency improvements
As the year progressed, the Managing Director stressed that things became even more challenging under lockdown: 
"Firstly, because it has gone on for such a long time. It is taking a vast toll on people, wearing them down. However, as a business we've also seen differential shifts across our various market sectors. Some stopped overnight, some have seen more of a slow gradual decline over the year, others have continued to remain steady."
They're a business who are highly service orientated, they manufacture a lot of bespoke materials, they have a fast response time to customer demand, and are known for the high quality of their products.
With people on furlough/reduced workforce, they were still trying to maintain that quality of service and product, whilst having less people, and subsequently less flexibility to meet those demands.
Their Managing Director is a firm believer that; "if you can't drive change in times like these, then you can't drive change period". 
Challenges must be seen as opportunities, and client focus maintained. 
They wanted to investigate where they could drive efficiency change in the business, so that when we come out of this, they're in a stronger position.
One of the key areas they looked at was line speeds across the factory. 
In busy periods (such as Q1 2020) the way they've always handled additional volume is by "throwing overtime at it". 
However, in their words:
"Overtime is an admission of failure. There is a deeper root cause. Somewhere in the production chain there's not enough raw materials, poor planning, too much machine downtime due to maintenance, or even a combination of all 3. Overtime was simply a way for us to compensate for a lack of efficiency."
The pandemic has enabled them to focus on ways to improve line speed. 
To make more without the need to take people off furlough, and that project is continuing.
3. Bank the unexpected positives
There were a few positive surprises across the company too…
One area where the MD did have initial concerns at the start of the pandemic was within their supply chain. 
Would there be disruptions? 
Fortunately, for them, the answer was no.
That came as a bit of a surprise, and the company was impressed with the performance of suppliers. No excuses, people rolled their sleeves up.
Another positive was a much better atmosphere in the factory itself: 
"As we faced the crisis, it brought out the best in the majority of our workforce. People came together, productivity improved, even with less people on the floor. With many commenting that they liked the new environment."
The key moving forward is how they can maintain that? How to bottle it? 
As the Managing Director states; "It's a good question, and true for many companies I'm sure". 
When they come out of this, their workforce will be reduced by around 25%. 
They also have an ageing, highly skilled workforce. 
One of the downsides of the pandemic was having to place a planned apprenticeship intake scheme on hold. 
"Once we return to some sense of normality, and our profitability returns to 2019 levels, this will be one of the first thing we look to re-implement. Bringing new people in, combined with structured training, and working with/shadowing our best operators to teach them the good pre-pandemic habits."
The pandemic has really highlighted the best of behaviours. 
Those that truly stepped up to the plate, picked up the slack and took on additional responsibilities to keep things moving have shown themselves for the future too.
4. Be prepared for the 'R' Word – Handle redundancies fairly but promptly
Redundancies have, and will continue, to be probably the hardest part of the pandemic.
According to the ONS, the UK's unemployment rate rose to 4.8% in the three months to September 2020, that's up from 4.5% in the previous three months.
Redundancies rose to a record high of 314,000 in the same period – a figure which is expected to continue to rise into the new year as a consequence of the current coronavirus lockdowns, tiers and restrictions.
This is something that has also been unavoidable at their company.
They were able to let a few people retire early, some were keen to take voluntary redundancy as an opportunity to change career path for example. 
However, there were redundancies across the business, and a need to restructure most departments. 
According to the MD; "the bulk of that 25% we had to let go were in operations but we also had to let go of personnel across Sales, Customer Service and other departments too".
Making decisions and then acting quickly certainly helped minimise the pain and disruption for everyone affected.
5. Use the negative to your advantage and as an opportunity to consider fundamental changes
In terms of their senior management team, there had been a number of recent appointments at the exec level. 
The Managing Director also saw the pandemic as an opportunity to look at necessary change…
As the MD says; "if change doesn't come from the leadership team, how can you expect the rest of the organisation to buy in".
It has been a challenge though with managers having to adapt to new roles as well as dealing with change.
Onboarding new senior personnel in a lockdown with many working from home is a new one, and it has been the challenging part with many of the briefs we've completed this year.
The lockdown has required a change in a mindset, and as the MD pointed out; "maybe people felt it hard to let go of past behaviour and thinking?".
Their solution was to challenge the senior management team, the Managing Director included, to look at new ways of working. 
To break their 'systems' down into their basic components. 
Analyse what they're going to do differently to make the required changes and improvements. 
Record it, track it and share it with the entire management team.
Those differences could be a change in behaviour or focus.
The Managing Director used one senior manager as an example:
"They had a tendency to focus on the administrative side of the role, there was a lot of it too, and they probably enjoyed doing it. However, they were challenged to look at ways they can commit more time to adding value to the business by reducing costs. The solution was to look at ways they can create that space. What are they doing that doesn't need to be done, what tasks can be delegated to others? Ring-fence their time, what is the most productive use of their time, and how does the business benefit." 
Sounds simple, but it highlighted how many experienced, senior managers, were simply doing things because 'that's the way it's always been done'.
Is that the most efficient way? Is there a better way to do this?
Make those changes. Improve process and best practice.
6. Don't forget your strengths – The things that make your business what it is
The company also takes immense pride in their safety record. 
They're currently in their 3rd consecutive year without a lost-time accident.
"In a crisis, it is very easy to lose sight of these things, and we haven't." 
They've continued to spend a significant amount of time, effort and energy on ensuring standards are maintained.
The Managing Director will be the first to admit, he has incredibly high standards, both for himself, and the team around him.
They are dedicated to service and quality.
Leading that commitment from the front and expecting people, especially those new to the business, can be a challenge.
However, by formalising the messages needed to make the right changes/improvements, it is helping everyone to get on board. 
As the MD puts it; "for me, that is the true benchmark of effective leadership, that ability to recognise and embrace change".
7, As the old saying goes; watch the pennies and the pounds will look after themselves.
As part of a larger group of companies, maintaining financial performance and meeting KPI's is critical.
They're under pressure from Group to meet targets and demonstrate improvement.
Their profit in 2019 (their financial year is calendar) was 3.5 times higher than when the Managing Director took over in 2012. 
That builds something of a cushion, not just in terms of cash, but also in goodwill.
As the MD says:
"In 2020, the most important thing for any business is cash, even more than profit in many respects. Of course profit is important too, but in a crisis, cash is king." 
They've used that high profitability to generate strong cash flow/cash reserves. 
Even after such a difficult year, they will still end 2020 above where they were when the MD took over.
That means they can continue to focus and invest on their strategic objectives.
Of course they've had to strip much out, ask a lot of tough questions, but they've focussed on what really matters to the business. 
"The nice to haves were parked but with solid profits and strong cash flow we're still be in a position to complete a number of CapEx projects." 
As with many businesses, they're not where they wanted to be.
However, as part of a global multinational with a much more rigid/functional structure, they're pleased they had the autonomy to react quickly to the challenges of COVID as they see fit.
"Our agility means we were the first in the group to streamline the workforce, the first to put various measures and controls in place to tackle the pandemic, simply because we can. We don't need to go through layers of management, chains of command, like other parts of the group. We were able to do what any responsible company should do in a crisis, without pressure from other parts of the business, who're operating in different countries, sectors and often under different legislation, etc."
Costs were cut accordingly, they focussed on what was important, looked at how they could use the furlough scheme to their advantage in supporting the business. 
Another example of this is with something as everyday as Credit Control. 
They already had control of the function but good day to day management is what is seeing them through. Keeping a closer eye on everything.
As the MD says:
"Times are tough, next year will likely be tougher but there's a positive feeling here that the fundamentals of the business are strong. In any downturn, customers will de-stock, strip out costs. You'll get a bump up in cash at the start as they buy but the key is how we preserve that cash as stock levels wind down."
8. You can't predict the future so prepare for all eventualities
In 12 months time, they feel that they, and the wider UK economy, will be on the road to recovery. However bumpy that road may be…
"It is going to be tough but the second half of 2021 should see a swing." 
In their best performing market sector, forecasts predict that demand will not return to 2019 levels until 2022 at best. 
They felt reducing the workforce and focussing on line speed, yield, machine uptime, etc was vital:
"Our belief is that if we take this path, we will come out of this crisis with a significantly lower fixed cost base. However, we'll still be in the enviable position of being able do everything we did before. Hit the profit levels of 2019 but with much lower levels of turnover than we had in that year." 
They're also not just relying on their traditional market sectors too. 
Growth is vital…
"Existing customers will have de-stocked as far as they can through the first half of 2021, so that in itself will lead to a natural bump up as they replenish. Other customers placed large orders early in 2020 and stated they wouldn't place anymore this year, but we're now seeing them placing orders. Others honoured their order commitments throughout the year, and they're saying they'll potentially have a quieter 2021."
However, the MD is confident they'll have a better year overall in 2021 than 2020, not by much, but the trend will be the opposite: 
"2020 started strong and tailed off. 2021 will see probably see us start slow and finish strong. That's partly due to the general economic recovery, but also as a direct result of the new business we're actively pursuing."
9. What has 2020 taught us about people?
In the lockdown, whilst some struggled, others stepped up.
A new senior manager started in January and the Managing Director states that; "he has been first class. He has fully embraced the business and brought with them a level of professionalism to a number of major development projects".
Can they coach that positive response? 
Can others learn from it?
"Those with a positive approach and personality have been a breath of fresh air during the crisis. Others have found it more difficult to acknowledge the need for change. It still feels too close to the crisis to establish clearly what we've learned from 2020. There needs to be a period of distance from it. Time to reflect. Drop the emotion and think about it in a rational way."
In our last article of this type we spoke to a HR Director also close to Barron Williams, they identified that in their organisation they'd a number of senior management earmarked as future leaders pre-COVID. 
However, many failed to react to the crisis in the way expected of them. 
There were others that surprised, stepped up, and went above and beyond what was expected of them. 
Once we do see a return to some kind of normality this may be reflected in many senior exec career paths. 
Some have disappointed, others will find themselves fast tracked as a result of their response to the crisis.
The pandemic has helped both the HR Director and Managing Director we've interviewed to see the 'wood from the trees', and identify some of the true leaders within their senior management teams.
10. What's better?
Many of our clients have informed us, and we've experienced this ourselves, that working from home has created significant efficiency savings. 
Less travel = more time to focus on the important stuff. 
More flexibility = better work/life balance.
This client has best experienced this within their sales division. 
Whilst in lockdown the better sales execs were able to grow and nurture their wider sales pipeline. Focus on planning, more proactive sales activity, more video client meetings.
So, less time travelling, no need to drive 3 or 4 hours to visit a customer, they could get up and get straight to work. 
All of that is reflected in the new business pipeline, which is much improved!
Time was utilised more efficiently, old habits and behaviours were challenged. 
"Orders are now being placed by new customers who were identified and acquired from the work they've done from home in the summer months of the first lockdown."
The Managing Director is taking a long hard look, and asking the question; "what is sales?" and "how can the newly established best practices be embedded across the team?".
11. Focus on what you do well and where you have your competitive edge
Looking at their wider industry, there's a feeling that many competitors won't fare as well. 
They don't appear to have been as proactive or have the cash reserves to ride out the pandemic as well as expected.
Could there be more opportunities to exploit?
The Managing Director is clear that he doesn't want their strategic focus to change in terms of market growth. 
They know their chosen sectors.
However, the business will be well placed to target new sectors and opportunities, particularly closer to home.
"What the pandemic has done has focus the minds of our sales team in emerging market sectors. Many of the supply chains link all the way back to China. With the double hit of COVID and Brexit, customers are shying away from these long supply chains. They are looking to work with a more responsive, UK based company. That will clearly create domestic opportunity."
The pandemic has made many businesses ask the difficult questions, what is it that we don't do well and should we continue? 
2020 has given many of us the clarity to focus on the areas of operation that are most important in driving growth.
12. You've been through a lot – Maintain that team spirit
The business has had to make some very difficult decisions this year. Decisions that have impacted on peoples lives. 
They've received pushback too, it's not always been easy.
However, across the business as a whole, the need for these changes was generally recognised and appreciated. 
People got on board and stepped up.
The Managing Director was honest with the team: 
"We're going through tough times but we are going to weather them. We have a strong balance sheet and the right fundamentals in place".
This undoubtedly helped people understand the rationale behind key decisions.
13. The joy of Brexit… Get on with it!
Assuming we get some sort of deal, it was interesting to discuss Brexit with our MD friend too. 
Whilst we've mentioned their focus on UK customers, 85% of their business is export.
I was keen to discuss what they'd done to mitigate potential disruption to the business?
"Brexit, much like COVID, creates problems but also opportunity. We've always worked to worst case scenario, and that's 'No Deal'."
The New Year of course will be third time that they've prepared for Brexit:
"It's had no direct impact on the business in terms of loss of trade but it has taken significant management hours for us to plan ahead and prepare in terms of our own stock, working closely with suppliers to establish their contingency plans, and working with customers to identify potential bottlenecks created by Brexit deadlines."
As a business they do have significant in-house experience with much of the export documentation, so when the government introduced their Trader Support Service, they were one of the first companies in the UK to register. 
In the run up the deadline they've also been building up stock of essential raw materials: 
"Much of what we make is bespoke, so we can't just manufacture finished goods, however, fortunately it goes back to our strong cash flow. We have the reserves, we can afford to do this. Much of the rhetoric coming out of Westminster is telling us to plan. However, that's a little difficult when there's very little in the way of guidance. All we can do is plan for no deal. That's the worst case. That's the approach we've taken since the referendum." 
However, COVID appears to have shifted much of the focus.
Are other companies as prepared for 1st January 2021 as our manufacturing client?
One grey area is calculating costs of a potential no deal on their business, and the impact Brexit will undoubtably have in terms of working with customers outside the UK. 
"Our finished products generally carry zero tariff but the raw materials are a different story. Many are sourced from international suppliers, so tariffs could be an issue. However, leaving aside any loss of business, as a guesstimate our feeling is the impact of a 'No Deal' could see a loss of about 10% profit in the first year. We've planned as far as we can, with the limited data available". 
Moving into the New Year…
So, 2020 has been a test of resilience. 2021 will bring new challenges. 
However, as with many of our clients, those tasked with running these businesses are gearing up for these fresh challenges. 
What is consistent is resilience and pragmatism…
The level and variety of challenge is also notable.
Some sectors have faced significant falls in business and revenue, others having to operate under social distancing whilst maintaining or even increasing output.
Some people have responded to the challenges better than others and, like this specialist manufacturer, those firms will be better positioned for the long-term.
If you're looking for a senior executive for your organisation, please use our Client Upload Form or Call Us now.
If you're looking for your next role, then please feel free to Upload Your CV or Call Us for an exploratory conversation.